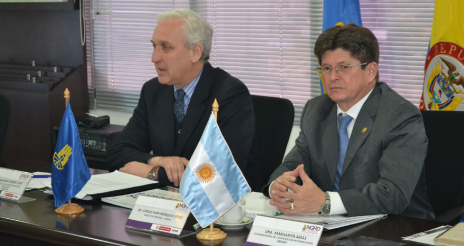 A commission of White Helmets visits the UNGRD facilities. Photo: UNGRD

Source: UNGRD
Bogota, September 23, 2013 - The international cooperation between Colombia and Argentina in Disaster Risk Management is advancing along a good path, and the proof is in the rapprochement between the governments of President Juan Manuel Santos and President Cristina Fernandez de Kirchner.
This was expressed by the President of the White Helmets of Argentina Gabriel Fuks during the mission's visit to the National Risk Management System (UNGRD) facilities, when he expressed that there remains much to do in this area and hopes that relations between the two nations continue to be fruitful.

While in the National Crisis Room (located in the UNGRD), the Argentinean commission learned more about Colombia's progress on Disaster Risk Management, with the enactment of Law 1523 of 2012, which coordinates the entire System and enables a stronger response to enhance the resilience of communities and generate a less vulnerable nation.
In November, a Colombian commission will visit Argentina for a first hand look at the actions being development in the area of Disaster Risk Management.