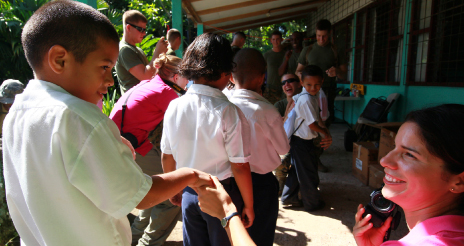 Press release
September 3, 2013 - UNISDR 2013/22
Source: UNISDR – The Americas
SAN JOSE, Costa Rica, September 3, 2013 –The planning of joint preparedness and support actions for the recovery of communities in the face of potential disasters associated with natural hazards continues to gain importance in Central America. This was confirmed by the large attendance of government officials, representatives from international organizations and experts in international risk management and disaster recovery at the national meeting convened by the National Commission for Risk Prevention and Emergency Management of Costa Rica (CNE), the Office United Nations Office for Disaster Risk Reduction (UNISDR), with the technical support of the United Nations Development Programme (UNDP).
The discussion of preparedness and planning for disaster recovery is vital for the development of Central America, because according to the Global Assessment Report on Disaster Risk Reduction edited by UNISDR (GAR), disasters in Central America were responsible for 23% of deaths and 10% of all people affected by disaster living in the Americas over the last 15 years.
In a message from Panama City, Ricardo Mena, Head of the Regional Office for the Americas of the UNISDR, referred to the Pre-Disaster Recovery Planning Workshop and the development of the National Recovery Framework: "Meetings like this help to strengthen the importance of promoting a culture of reducing associated risk at all levels and political, economic and social fronts, since each and all share a common goal: to prevent the loss of lives and disruption of sustainable development as a result of disasters. "
"While Central America is highly vulnerable to natural hazards, it is also an example of multi-sectoral coordination in support of disaster risk reduction and the strengthening of community resilience," added Mr. Mena in recognition of the work of his strategic partner, the Coordination Centre for the Prevention of Natural Disasters in Central America, CEPREDENAC; the technical support in the field of risk management and recovery of the United Nations Development Programme, UNDP, and the International Recovery Platform, and especially the support of the Australian Agency for International Development , AusAID in the sub region.
The Pre-Disaster Recovery Planning Workshop and the development of the National Recovery Framework is part of a Central American regional process initiated in March 2012, which has held meetings in El Salvador, Honduras, Nicaragua, Panama and Guatemala, in accordance with the presidential mandate issued following the Summit of December 2011, in reaction to the impacts of Tropical Depression 12E and in support of the implementation of the Central American Policy on Comprehensive Disaster Risk Management, PCGIR.
The event was chaired by Ms. Vanessa Rosales, President of the CNE; Ms. Yoriko Yasukawa, Resident Coordinator of the UN system in Costa Rica, Mr. Victor Ramirez, Coordinator of CEPREDENAC's Institution-Building Programme Area, Mr. Julio Garcia, UNISDR Programme Officer and Mr. Kifah Sasa, UNDP Programme Officer in Costa Rica.