UNISDR

Public Safety Canada
Newsletter 4 / 30 December 2016

Public Forum from March 7 – 8, 2017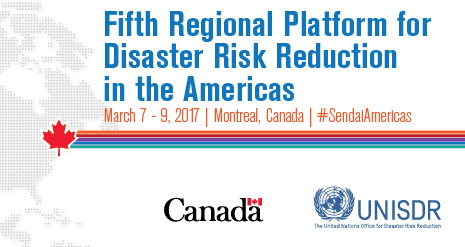 As part of the Regional Platform for Disaster Risk Reduction (DRR) in the Americas (RP17), a side event called the Public Forum will be held at various sites across Canada and North, Central and South America and the Caribbean.
The Public Forum provides a selection of targeted results oriented workshops that are open to everyone, including the public. These sessions will allow individuals to participate in meaningful dialogue on DRR at the global and hemispheric level, which will be reflected as part of the results of the RP17.
• The themes for the Public Forum include:
• Climate Change Impacts, Health and DRR;

• Indigenous community and DRR;

• Gender equality, Human Rights and DRR;

• DRR and resilience;

• Community based DRR;

• Role of Civil Society

• Sustainable Development, financial costs and DRR;

• Private/Public Collaboration; and

• Science and technology solutions.
Interested organizations such as academia, private and public sectors, and non-governmental organizations are invited to participate by hosting a Public Forum in their region on March 7-8 2017. Hosting entails providing 1-3 rooms that would be suitable to accommodate 50-100 persons each as well as joining the planning committee in shaping the agenda for your event. Hosting a Public Forum in your area provides your organization with the opportunity to be recognized as a contributor to the results obtained during RP17 and to be featured as a Host of a Public Forum on the RP17 website. A Public Forum is already planned for the region of Montreal, Quebec on March 7-8, 2017.
If you are interested in participating as a Host and/or presenter, or if you have any questions regarding your participation, please contact, via email, the RP17 Secretariat.